1st Asia NetFPGA Developers Workshop
1st Asia NetFPGA Developers Workshop
13-15 June 2010 at KAIST, Daejeon, Korea
Full Details: http://fif.kr/AsiaNetFPGAws,
http://netfpga.org/php/events.php
NetFPGA Enthusiasts,


You already know that the NetFPGA implements a Gigabit NIC, a hardware-accelerated Internet router, a traffic generator, an OpenFlow switch, a NetFlow probe, and more. What else can it do? We invite you, NetFPGA Developers, to join the 1st NetFPGA Developers Workshop in Asia. The workshop to be held at KAIST (Korea Advanced Institute of Science and Technology) will allow you to show the world your latest project. Submit a paper to describe your project, prepare a demo, and come to Daejeon Metropolitan City of Korea in June of 2010 to demonstrate your work!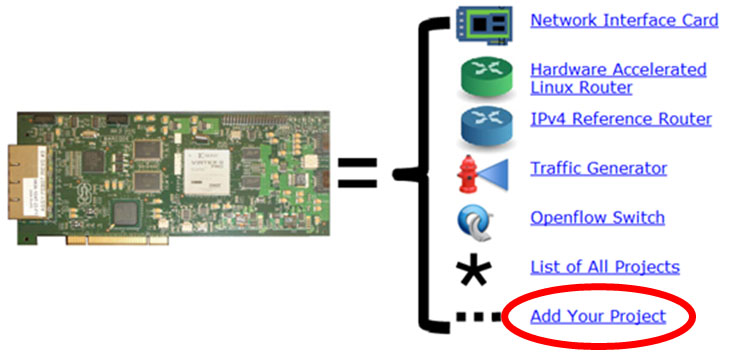 "What have you built with your NetFPGA Hardware?"
Workshop Dates
- Paper Submission Deadline: Feb. 28, 2010 Apl. 15, 2010(Extended)
- Demonstration Setup (for authors): June 13, 2010
- Workshop Presentation & Demonstrations: June 14 ~ 15, 2010
Information for Workshop Authors
- Submit final version of paper through web (link)
- ACM style paper format download (link)
Presentation and Demonstrations on
Demonstrations: Run on NetFPGA(s)
- Hardware enhancements for packet forwarding
- Hardware applications for payload scanning
- Methodology for high-level programming networking hardware
- Testbed deployments
- Data-plane virtualization
- Applications that support soft radio, and traffic generation
- Any Experiments using NetFGPA
Workshop Location
- Korea Advanced Institute of Science and Technology (KAIST), Deajeon Metropolitan City, Korea.
Transportation
- Getting to Daejeon from Incheon International Airport
- Getting to KAIST from Bus Stop (Government Building Complex)
Accommodation
Program Committee Co-Chairs
Local Arrangement Co-Chairs
Sue Moon (KAIST)
Jaeyong Lee (Chungnam National Univ.)
Program Committee Members
Jun Bi (Tsinghua University)
Gordon Brebner (Xilinx)
Michael Ciesla (UNSW)
Yu-Huang Chu (Chunghwa Telecom)
Sun Moo Kang (NIA)
Eric Keller (Princeton University)
Jongwon Kim (GIST)
Taekyoung Kwon (Seoul National Univ.)
Martin Labrecque (University of Toronto)
Yukuen Lai (Chung-Yuan Christian Univ.)
Jaeyong Lee (Chungnam National Univ.)
Kevin Xie (Xilinx)
Sue Moon (KAIST)
Andrew, W. Moore (Cambridge University)
Akihiro Nakao (University of Tokyo)
Seung Yeob Nam (Yeungnam University)
Seung-Yong Park (Yonsei University)
Hwangjun Song (POSTECH)
Charlie Wiseman (Washington University)
Chong Ho Yoon (Korea Aerospace Univ.)
Martin Zadnik (Brno University of Tech.)
Hongyi Zeng (Stanford University)
Young Cho (USC-Information Science Institute)
Nick McKeown (Stanford University)
Dae Young Kim (Chungnam University)